Celebrate & Rejuvenate
Fall in love all over again in a perfect island paradise.
Celebrate & Rejuvenate
Fall in love all over again in a perfect island paradise.
Celebrate & Rejuvenate
Fall in love all over again in a perfect island paradise.
Celebrate & Rejuvenate
Fall in love all over again in a perfect island paradise.
Welcome to Tropica Island Resort
Nestled into a private sheltered bay on beautiful Malolo Island, Tropica Island Resort offers breathtaking views over the nearby islands of Fiji's sparkling Mamanucas. Tropica is an intimate, adults only boutique resort that offers the perfect Pacific Islands getaway for couples celebrating a special occasion. If you're seeking a babymoon or a vow renewal, or simply some romance and rejuvenation, you couldn't ask for a better spot to say au domoni iko — I love you.
Book at Tropica Island Resort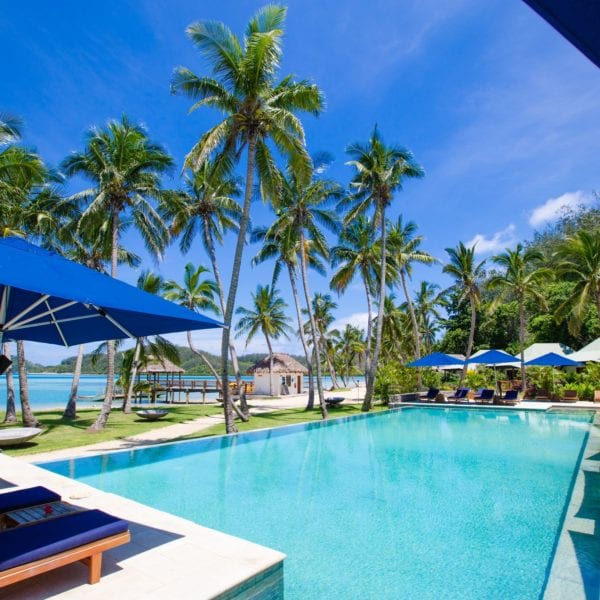 Tropica Island Resort consistently ranks among the best adults only resorts in the South Pacific. With just 24 stylishly appointed bures and suites, including our  luxury Deluxe Pool Bure, you're guaranteed a rejuvenating experience at this favourite celebration spot. Ideal for a wedding, honeymoon, babymoon, vow renewal or a romantic proposal. Our team adore it when love is in the air and will go out of their way to ensure your holiday memories last a lifetime. Be sure to check out our romance packages.
Choose between four luxurious room categories across our 24 air-conditioned suites and bures, most with their own private plunge pools. All room types come with complimentary daily full cooked breakfast, welcome drink on arrival, 10 minute foot soak, daily housekeeping turndown services, bottled water replenished daily  and many other complimentary inclusions.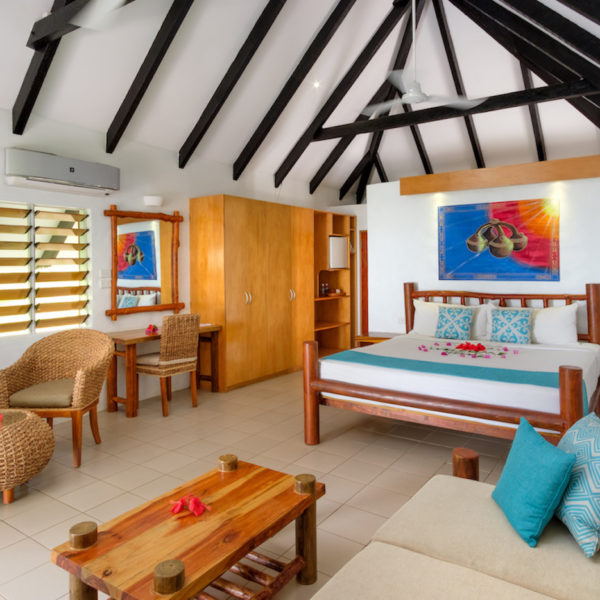 If you'd like a change of scene from our picture-perfect 25m main infinity pool, head back to your bure to enjoy your very own private plunge pool. Regardless of which pool you're relaxing in, you're guaranteed a quintessential Pacific Islands view. Other first-class facilities at Tropica include the rejuvenating Tropica Day Spa, and our two restaurants and two bars, one of which we think is the most romantic place in the Mamanucas to watch the sunset and ideal for celebrating a special occasion. Of course, we're biased.
Getting to Tropica Island Resort from the main Fiji island of Vitu Levu is easy. Choose from a high-speed catamaran, private speedboat or water taxi transfer. Alternatively, a seaplane or helicopter will have you at the resort within 10 minutes of departure from Nadi. All connecting transfers from the airport to your preferred transfer option to the island can be pre-booked with our reservations team at no extra cost.
We proudly welcome every guest into the Tropica family, such is the genuine warmth and care of the Fijian people. Tropica has more than 70 staff working together to ensure your holiday is a truly authentic Fijian experience, with a friendly "Bula!" every time they see you. Keep an eye out for Sunny, our famous Bulanaire, and an ear out for the strum of the guitar — Fijians love to share their culture through song! You'll also have the chance to take part in a traditional kava ceremony and other fun Fijian activities such as coconut husking and sulu (sarong) tying.
Tropica's dedicated chefs serve up a wide range of local specialties made with regionally sourced, seasonal ingredients across our two restaurants and two bars. You can order off the a la carte menu, which changes frequently, or choose to purchase a Full Board or Half Board Meal Plan.
For travel from 1st April 2024, we have introduced a compulsory full board meal plan. The meal plan must be purchased by all in-house guests for the entire duration of nights per stay. Meal plans can be purchased prior to arrival or on check-in at the resort.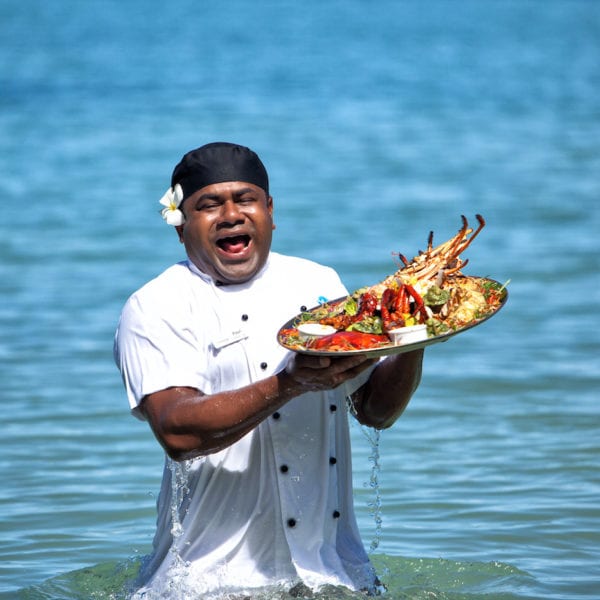 Cultural Activities/ Entertainment
Our Matanivanua service, which will take care of you from arrival to departure *
Delicious food and beverage options including Happy Hour at Lakomai Bar
Full cooked breakfast and daily housekeeping turndown services
Stunning views of the island and easy beach access



Many other complimentary experiences to enjoy at the resort
* Our Matanivanua service is only available to guests in our Beachfront Pool Bures and Deluxe Pool Bure.